HOME
> Feature of Ningyocho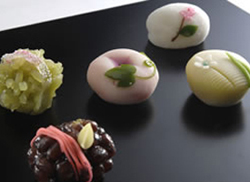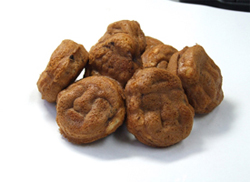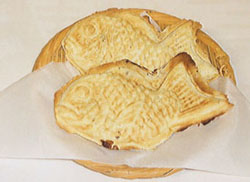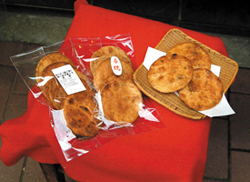 Japanese confectioneries made by traditional techniques developed along with the tea ceremony, and teir artistihc character grew along with their taste. As seasons are treasured in the tea ceremony, Japanese confectioneries also intricately reflect a feel of the season. Ningyocho also features many popular shops serving traditional snacks such as senbei rice crackers, tai-yaki fish-shaped cakes, manju steamed buns, and anmitsu deserts. One of the enjoyments of Ningyocho is tasting sweets at a variety of shops. You can eat them in the shop with a cup of tea or take them home to enjoy later. Don't forget to try some of these Japanese treats on your visit to Ningyocho.
Itakuraya (ningyo-yaki, senbei)/Ningyocho Kameido (ningyo-yaki, kawara-senbei)/Kotobukido (Kyoto confectioneries)/ Kofujiya (osen and okaki crackers)/Shigemori Eishindo (ningyo-yaki, senbei)/Sokaya (hand-baked senbei)/Saryo Tsukushi (Edo confectioneries)/Hikokuro (Kyoto confectioneries)/Nuigetsudo (fresh Japanese confectioneries)/Miharado Honten (Japanese and Western confectioneries)/Yanagiya (gourmet tai-yaki)/Chidoriya Ningyocho Shop (Japanese and Western confectioneries)/Hanami Senbei/Gyokueido (Kyoto confectioneries)/Hatsune (Sweets and okonomiyaki)/Sucre-rie (western confectioneries)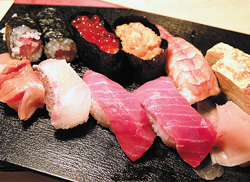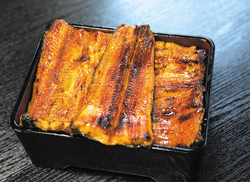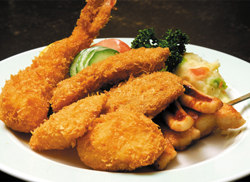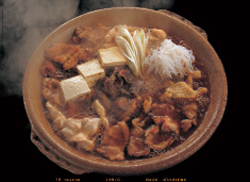 One of the attractions of Ningyocho is the food. People flock from across Japan for the many shops featuring Japanese food prepared with seasonal ingredients and traditional techniques, nostalgic old town Western food that has long been loved by Japanese since its introduction, and Asian foods. Ningyocho and vicinity is lively with approximately 70 eateries. Popularity spans traditional long-established shops as well as an increasing number of casual shops that also attract tourists recently.
[Sushi] Edohama/Saishun/Misaki-maru/Nakanomiya/Edokyu Nihonbashi-Ningyocho Shop/SUSHI TOCHINO-KI
[Soba noodles] Shochikuan/Okina-an/Toshimaya
[Japanese cuisine] Awoki (fugu)/Kaneman (fugu)/Kichisei (fugu, small dishes) /Ningyocho Kitahama (Kansai cuisine)/Kiyohamada (Japanese restaurant)/Ooishi (Japanese restaurant)/Ningyocho Imahan (sukiyaki, culinary art)/Hiyama (sukiyaki and meats)/Owada Honten (eel)/Sendai Beef Tongue Taro (Beef tongue)/Kikuya (Japanese restaurant)/Tamahide (chicken)/Edoji (grilled chicken)/Yamato (beef, hot pot of horse meat)/Aki (sushi, tempura)
[Western cuisine] Al Ponte/Entre/Kiraku/Grill Tsukasa/ Soyoich/Homitei/Raifukutei/Koharuken/Texas/Chez Andre du Sacre'-coeur/Siddique Suitengumae Shop/BALLAD (restaurant-bar)/Junjino
[Korean] Fuji (Korean barbeque)
[Chinese/Ramen noodles] Azumaken/Shisentei/Sui-Len/Tenkaichi/Meikaen/Benitora Gyozabo Ningyocho Shop
[Japanese pubs] Eito/Kushicho/Hokkaido/Sozaiya Ningyocho Shop/Sasashin/Kyusuke
[Snacks/Coffee] Kaiseiken/Café Dolce/Senriken/Takaku/Sugaya Juice Stand/Doutor Coffee Ningyocho 1-chome Shop/Café Restaurant Ron/Café Terrace Wako/CAFE de CRIE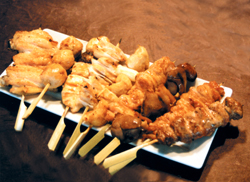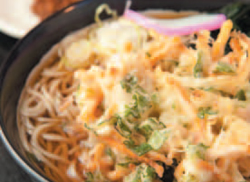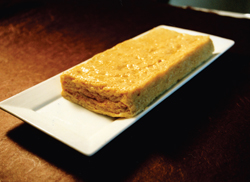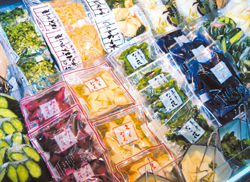 Have you heard of Japan's distinctive fast foods that are reasonable and convenient?
Sushi and tempura, associated today with gourmet cuisine, were actually served in the Edo period from street stalls. They spread as inexpensive and easy fast food distinctive to Japan, forming some of the roots of Japan's food culture. Of course modern fast foods such as hamburgers can be found in Ningyocho, but there are also plenty of shops for inexpensive and easy stand-up foods such as soba and udon noodles and take-out prepared dishes.
Buying take-out foods such as yakitori grilled chicken, fried egg, takoyaki octopus balls, croquettes and other fried foods, pickles, tsukudani seafood boiled in soy sauce, and rice balls, and taking them back to your room for a party could create memories of a slightly out of the ordinary trip.
[Fast Food] McDonald's (hamburger)/Tenya Ningyocho Shop (tempura bowl)/Matsuya Ningyocho Shop (beef bowl)/Yoshinoya Ningyocho Shop (beef bowl)/Tsukiji Gindako Highball Sakaba Ningyocho Shop (takoyaki)/Hyuga (stand-up soba)/CoCo ICHIBANYA (curry rice)/Hidakaya Ningyocho Shop (ramen)/Seiya (ramen)
[Take-out dishes/Deli] Corona Ningyocho Shop (rice balls)/Kintame (Kyoto pickles)/Chitoseya (tsukudani)/Shuetsu (fukujinzuke, smoked mackerel)/Uokyu (Kyoto pickled fish in sake lees)/Attaka Sozai (prepared dishes)/Torichika (eggs and chicken)/Hamanoin (Hamacho pickled fish)/Nihonbash Nori Ten (nori seeweed)/Sandwich Parlor Matsumura/Wasiya (market)/Toritada (eggs and chicken)/Chiyoda-zushi/Sugaya (fruit)/Vegefru 25 (super market)
[Alcohol] Koyama Saketen/Shinkawaya Sasaki Saketen
[Tea] Morinoen/Ocha no Kyowaen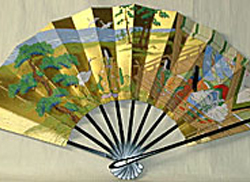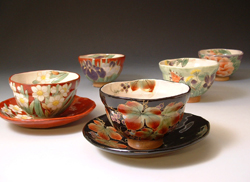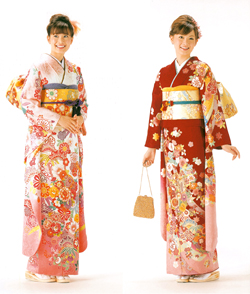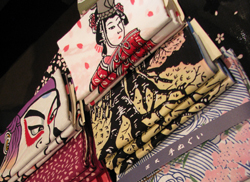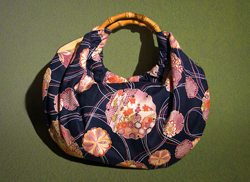 Hand-made traditional crafts are created with the skill of veteran craftsmen. Skills accumulated in the culture of Japan are passed from generation to generation, becoming tangible and intangible culture and aesthetic values alive even today. Ningyocho holds shops that have passed down traditions and skills for more than 100 years. Many items are available only here, such as displays of artistic dolls, kimonos, tenugui washcloths, chinaware, incense, and glassware with a modern arrangement. They are must-see for those with an interest in Japanese crafts.
Jin・e・mon (kimono)/Matsuzawa (kimono)/Tachibanaya (kimono)/Nishikiya (kimono)/Kobeniya (kimono)/Kondoden-Toryuen (kimono)/Tansuya Ningyocho Shop (kimono)/Shoeido (incense)/Kyosendo (Kyoto fans)/Chidoriya (tenugui)/Glass Kogei Watabe (glass craft)/Benitomo (vessels)/Sosaku-ningyokan (dolls)/Shitamachi Omoshioro Kogeikan (kimono and crafts)/Nihonbashi Yuma (Cosmetics, ornaments, and crafts)
Musee Hamaguchi Yozo: Yamasa Collection

The distinctive engraving method of color mezzotint was developed by Yozo Hamaguchi (1909-2000). The tranquil world created by that unsurpassed skill continues to fascinate many people. After living abroad for a long time, Hamaguchi returned to Japan and opened a museum that has permanent displays of the many works he brought home.

[Living]
Isemo (gifts)/Endo Denki Shokai/Kuma Yakkyoku (drugstore)/Miki (dishes)/Taiseido Yakkyoku (drugstore)/Chishima (stationary)/Tokyo Kagu (furniture)/Todaya Shoten (sundries and video production)/Hanashige (florist)/DPE Palette Plaza (photo development)/Hibino Shoten (gas appliance sales and repair)/Family Mart Suitengumae Shop (convenience store)/Fukuzumi Yakkyoku (drugstore)/Brother (shoes and sporting goods)/Matsumoto Kiyoshi (drugstore)/Misono (fresh and artificial flowers for ceremonies)/Miyagi (stationary and office supplies)/Moriya Photo Studio/Fujikosan (fire extinguisher)/Hakuyosha (cleaning)/Hakutendo (rental space)/Fujikura (acupuncture and massage)/au Shop Ningyocho (mobile phones)
[Fashion]
Kirinya Yohinten (men's and women's clothing)/Jolly (maternity clothing)/Cut House Space (barber)/Feel Free (barber)/Chibori Onoya (men's items)/Tsunoda (jewelry and watches)/Nakajima (neckties)/Mikimura (maternity clothing)/Tsuruya Yoso (women's clothing repair)/Heisei Nihonbashi Yohinten (clothing)/Sano Tokeiten (watches)/Tokyo Megane (eyeglasses)/Megane Buster Ningyocho Shop (eyeglasses)/Hiramatsu Kutsuten (shoes)/Marion Port (accessories)
[Culture/Entertainment]
Bunkyodo (books)/BOOKS PISMO/ KARAOKE no TETSUJIN (karaoke)/Takarakuji Center (lottery)/Royal Park Hotel/Masamura Yugijo (pachinko parlor)/Meiji-za (theater)
[Real Estate/Finance/Other]
Assist 30 (real estate)/Hideo Ishida Office/Kikuya Fudosan (real estate)/Shinko Shoji (real estate)/Ningyocho KM Building/Yanagiya Building/Taishin Fudosan (real estate)/Takararya Fudosan (real estate)/Nittsu Tokyo Branch (freight transport)/Hideki Ishijima Mansion Kanrishi Jimusho (condominium management)/Paroom City (real estate)/7Day's (real estate)/Yanagiya Fudosan (real estate)/Yasuda Building Maintenance/Nanya Shoten (real estate management)/Daikokuya (pawn shop)/Konan Ticket (discount ticket)/Tokyo City Shinkin Bank Nihonbashi Branch/Kosan Shinkin Bank Ningyocho Branch/Tokyo Grain Exchange
[Public Facilities]
Suitengu Shrine/Ogannon-ji Temple/Tokyo City Air Terminal/Tokyo Metro Ningyocho Station/Toei Subway Hamacho Station/Tokyo Metro Suitengumae Station/Nihonbashi Kakigaracho Clinic/Toei Subway Ningyocho Station